Meet Our Team
At Mis Amigos we look forward to coming to work each day to care for your pets. Meet our team that goes the extra mile to make sure your pet's stay is safe and enjoyable.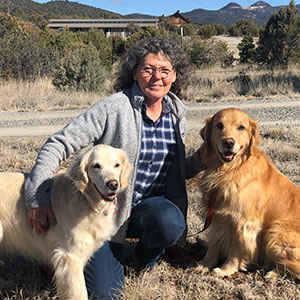 Gail Skee
General Manager & Trainer
Gail is the General Manager. Mis Amigos Pet Care Center has been open since 2005 and has been a steadily growing business. She has always shared her life with animals, and today lives with three Arabian horses, two dogs, and three cats. For more than three decades, she has lived in southwest New Mexico where she also raised a human family. She now enjoys spending time with her grandchildren.
Gail has been able to devote time to showing her dogs. She has competed successfully in conformation, obedience, rally obedience, and agility. She has also trained and handled therapy dogs. She is a graduate of the Karen Pryor Academy and been a member of this organization for over a decade. She has attended many conferences, seminars and workshops; read many books, and continues to look for ways to advance her knowledge and experience when working with animals. She loves working with animals and has had the opportunity to train with chickens, goats, alpacas, cats, horses, as well as, dogs. She delights in helping to improve the relationship and mutual satisfaction of owner and dog.
---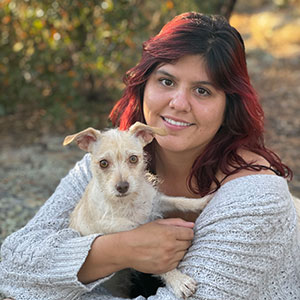 Adriana Gray
Kennel, Daycare
Adriana is an adventure seeking, wilderness lover. She has heard that a job can't make you happy, but she feels she wasn't truly living until she started working with the animals and people that she admires. She plans to further her career by majoring in chemistry and zoology while getting down and dirty with our beloved animals at Mis Amigos Pet Care Center.
---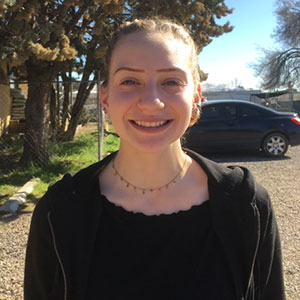 Kim Telles
Front Office, Kennel
Kim has always had dogs and loved every one she's ever met. She graduated from high school in May 2020 and has already found her dream job working at Mis Amigos! Every day she is happy to come to work to see her furry best friends.
---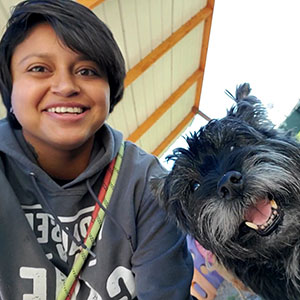 Jeanette Martinez
Front Office, Kennel, Daycare
Jeanette likes to play video games and hang out with her four-legged children. She likes exotic animals and her future goal is to become a vet tech for all animals.
---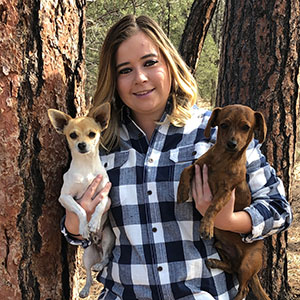 Magen Atwater
Administration
Magen has been with Mis Amigos for about 6 years. What she loves about Mis Amigos is that every person there has found a way to treat every animal that walks through the door with love and care, as if they are one of their own.
---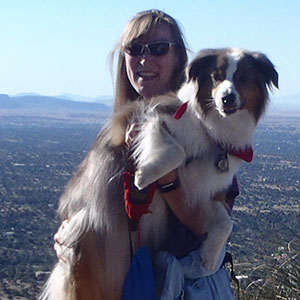 Erin Bibles, CPDT-KA
Trainer, Marketing, Retail
Erin shares her life with her husband, Brent, and their rescued Australian shepherd, Suki. Erin grew up loving animals of all kinds, and dogs and cats were always a part of her family (as well as occasionally goats, chickens, ducks, rabbits and a horse). In 2000, she and her husband adopted a young puppy from the local shelter. Moqui taught Erin so much about training, behavior and dogs in general as Moqui was a very challenging puppy. It is with Moqui that Erin began clicker training and she never looked back. Moqui was the first of two anxious dogs for Erin and Brent. Their current dog, Suki, came to them at 3 years old with many anxieties. She is another dog who has taught Erin much and continues to teach her. Having dogs with behavior challenges drove Erin's need for information. She is an admitted dog behavior and training geek, always seeking to improve her knowledge and skills. A trainer friend of Erin's told her she knew that Erin was headed down the path of becoming a dog trainer even before Erin did. She has been with Mis Amigos since May 2019. Erin loves teaching classes at Mis Amigos and helping puppies and dogs and their humans come together in happy, healthy relationships. In the fall of 2021, Erin took the next step and has become a Certified Professional Dog Trainer (CPDT-KA). In her spare time, you can find Erin on the trails hiking or mountain biking and volunteering for Aussie Rescue & Placement Helpline (ARPH).
---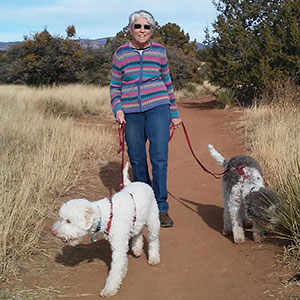 Darlene Colmar
Trainer
Darlene Colmar has been training dogs for 24 years. She raised 4 dogs for Leader Dogs for the Blind and is an AKC Evaluator as well as a Tester/Observer for the Alliance of Therapy Dogs. When she lived in Asheville, NC, she was the training director for the Obedience Club of Asheville where she developed classes and was the instructor for STAR Puppy, Canine Good Citizen, AKC Rally and Obedience. She has been an instructor at Mis Amigos since 2017. Her classes are structured and have an atmosphere of fun and camaraderie. Her teaching philosophy is based on inviting the dog to offer the desired behavior and reinforcing that behavior when it happens. Being patient and understanding the dog's point of view are her "secret weapons."
---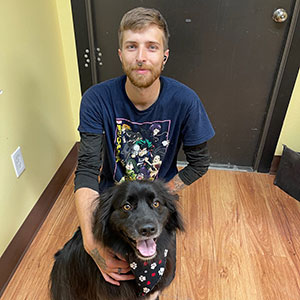 Jesse Gomes
Groomer
Jesse is new to Silver City. He recently finished his grooming education with the Paragon School of Pet Grooming (online). In his spare time, he enjoys hiking and playing video games.